Race Registration
Get ready for the ultimate paddle racing challenge.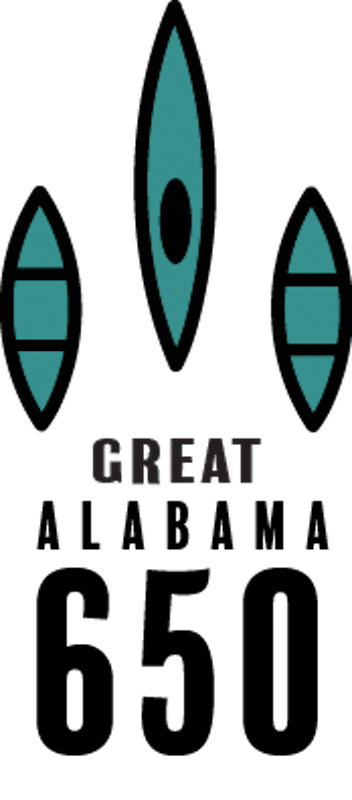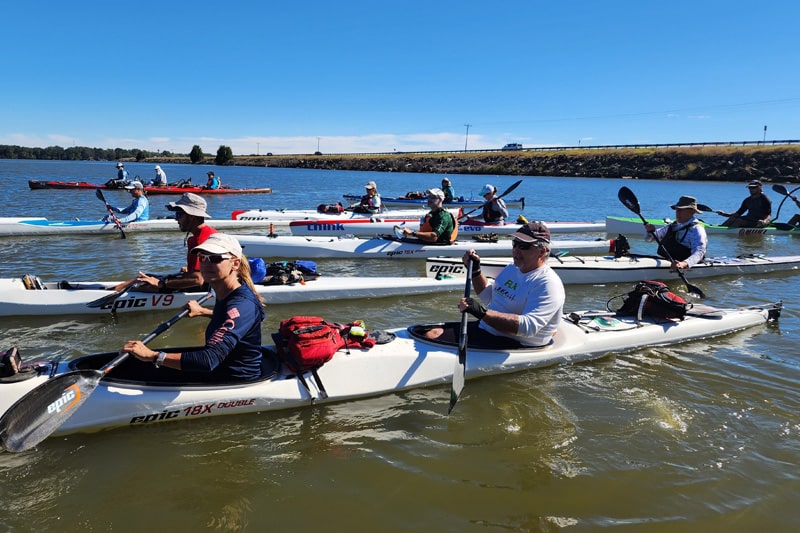 Race Rules and Gear
Kayakers, canoeists, and stand-up paddle boarders with the highest levels of endurance, passion, and skill are invited to test their skills on the country's longest river trail. Winners will be named in three categories: male solo, female solo, and tandem team. Learn more about the race's rules and requirements below!
Racers must have finished a qualifying race within the last 5 years and must have competed in a solo or two-person tandem. Registrants must show proof of completion of one of the qualifying events prior to the race start.
You may sign up for the Great AL 650 when registration opens and then complete a qualifier prior to the start of our race. However, you must complete it no later than August 15th. The race director reserves the right to accept or deny any applicant during the registration process for any reason.
List of Qualifying Races:
Registration for the 2023 race opens at noon CST on November 1, 2022. Each registered boater will be required to show proof of a completed qualifying race prior to August 15, 2023. You may register as a male solo, female solo, or tandem two-person (team) racer. All race participants will begin the journey simultaneously.
Registration numbers are capped each year to allow for proper staffing of the route. You may join the waitlist if all spots are filled.
There is a race entry fee of $500. No refund will be provided unless the race is canceled. In the event of cancellation, racers will be given the option of a refund or deferral to next year's race.
The organizers reserve the right to refuse your application or entry at any time, particularly if there are any safety doubts with teams or racers or if the rules are being violated.
All teams and racers must attend the pre-race gear inspection and brief on Friday, September 29, 2023. Time and location will be emailed to all participants approximately 1 month before the race.
race will begin at 10 AM on Saturday, September 30, with a shotgun start for all racers. Racers will then have 10 days to complete the race along the Alabama Scenic River Trail.
This race is crew-supported. Racers may meet crew throughout the race at portage spots and pullouts. This assistance may include restocking food and supplies, setting up camp, and changing out watercraft. Racers must have at least one person act as crew throughout the race. NO EXCEPTIONS.
Racers are only allowed to use the following non-motorized watercraft: kayak, canoe, or SUP. Racers are allowed to change watercraft throughout the race. No peddle, motor, or sail power is allowed. Crew are not allowed on the water during the race and can only assist racers on land.
Racers are the only ones allowed in watercraft at any time and must complete all sections of the course.
All visas and ESTAs are the responsibility of the racers and must be produced at the pre-race inspection.
Racers must ensure they have medical and rescue insurance coverage for the race. The organizers are not responsible for any emergency medical response or medical coverage.
Racers must carry at least one cell phone and must provide the race coordinators with two emergency contacts, including phone numbers and email addresses.
Racers will be outfitted with SPOT trackers and must keep them on throughout the race. If a SPOT tracker is damaged or destroyed, the racer is responsible for the cost associated.
Organizers will provide an online map for pre-race study, as well as maps for pickup at the pre-race meeting, but organizers are not responsible for your navigation or abilities to navigate.
Racers must have a GPS device and be proficient in its use.
All racers are to ensure they have the organizers' cell/mobile phone numbers saved in the event of post-emergency extraction contact. Racer and crew cell phone numbers must also be provided to the race organizers at the event. These will be issued at the pre-race meeting.
All racers must comply with local life vest laws. Race organizers may require the wearing of vests during certain sections of the race.
Racers are responsible for their own accurate time management. You have 10 days to complete this race.
Racers must ensure all campfires are put out and trash collected before leaving rest points.
Racers must support each other in the event of an emergency if possible—any unsportsmanlike behavior with regard to safety will result in disqualification and forfeiture of any prize money.
Racers or crews will be disqualified if they:

Use the SPOT tracker to signal an emergency
Contact race officials about elements of the race that provide an unfair advantage or are provided information prior to the race start

The race director has the right to disqualify or pull any racer from the race at any time at their discretion. The race director may also cancel the race at any time for any reason, particularly if the safety of the racers is in question.
Racers will finish at Fort Morgan in Mobile Bay. Race organizers will retrieve SPOT trackers upon completion.
Racers are responsible for their own travel plans before and after the race.
Please ensure you allow yourself enough time to catch your exit flight.
The following items are required for all racers:
The following items are not required but are recommended for all racers:
Portage Downtimes and Cut-Offs
These downtimes are at each portage and are required for each racer. Racers will not be allowed back on the water until the completion of each time period. A racer entering the water before being given permission by a race official at each portage will be disqualified. A boat must accompany the racers from takeout to put-in but does not have to be the same boat at those two access points.
Takeout and put-in at Weiss will be monitored but racers aren't required to stop. Checkpoints at Coosa River Adventures in Wetumpka and in Mobile Bay will not have mandatory downtime.
The total time will be subtracted at the end of the race. Since we will have a 10 AM start on the first day, we will add the 4hrs 45 min to the 10th day as buffer time. This means racers will have until 2:45 PM on the 10th day to finish.
Frequently Asked Questions